Discover more from Words, As Fruit.
a harvesting of words, thoughts, and healings, from writer ẹniafẹ isis.
When I left New York in 2014, to return home to California, I sold everything that didn't fit in a box, and anything with a shipping cost that might threaten to break the bank. When it came time to address my bookshelves, I had to have a come-to-jesus-moment because not only would my collection of literature cost a pretty penny to ship, the shipping boxes were going to be heavy, heavy. Fast forward, I paid the pennies, and the homie Alzo was the only male friend who had a car and was willing to help me cart, and carry, each and every one of my boxes to FedEx. Alzo joked on me the whole and entire time, and if you happen to know him, you also know his comedic skills are A-1. Your girl was in shambles, but my boxes got shipped.
A few years before my east coast departure, I had the pleasure of attending an event discussing the future of magazine publishing. The magazine industry was just beginning to feel the effects of, first the recession, and second the change over and decline of print magazine advertising to online advertising and readership. Datwon Thomas who then, and still to this day is legendary in the world of magazine publishing, was a guest speaker at this event. Many, many gems were dropped, but there was one in particular which I've held onto. In response to an audience question about whether or not magazines, in print form, would cease to exist, Datwon shook his head and, at some point in his answer, said, "History is preserved in pages." My brain lit up like a match book.
I have shared here before that books, and words, have always been a home place. Words have offered me both an escape, when I needed it, and a home when I went in search of it. Now, as a woman who is exploring my own gifts and way with words, I often find myself wondering, and wandering. The words I'm reaching for may be present, but not so much accounted for, and my mind's hands can't quite access or reach them. And so there's this thing I do whenever I'm searching, for sound, for light, for words, which are kin to my air. I go calling. I call it, "Calling for the Muses". And, blessedly, whenever called, they always come.
This was the case one late night a few weeks ago. I went to my bookshelves, and book stacks that lay throughout my living space, and I waited for my hand to rest somewhere. Wherever my hand rests is usually where the muses lay. After wandering for a time, my fingers tracing along pages and book spines, my fingertips found their way to one of my most cherished collections of magazines. HANNAH Magazine. There are three issues of HANNAH, published between the autumn of 2016 and the winter of 2018. They sit on my bookshelf right next to the now defunct Suede Magazine. My hand landed on HANNAH's inaugural issue and immediately I turned to the Editor's Letter and found the message and the muse.
As we continue to move through Black History Month 2023, and I am reminded daily of just how much Africans, African Americans and Black people have contributed to the world, in the most significant of ways, I am also reminded of how history is always in the making. And no matter what, we, Africans, African Americans, Black, Brown and Indigenous people, are essential and primary generators of what has been, what is and what will continue to be made.
In the last few sentences of the first paragraph of the Editor's Letter for HANNAH Magazine's first issue, Qimmah Saafir writes,
" […] God doesn't put something in you for you to keep it to yourself. A blessing doesn't end with you. Its very nature is active. You pass it on or it decays." - Qimmah Saafir
The Letter closes with these words,
"Hannah" was my father's name for the sun; I chose it to celebrate you because, my dear sister, you are the light. I poured my heart and soul into this mirror so that you can see how much you shine. And so that you can beam with pride. HANNAH is my humble offering and I pray you receive her well. More sun, less shade." - Qimmah Saafir
---
I don't know who else might be presently calling for a message, or a muse, but this gift has taught me that my call is never one that stands alone. As I call, someone else is calling too, and whatever answer or response I may receive is, more often than not, one I am meant to share.
To all the suns that find themselves resting in wanting skies, thank you. — ẹniafẹ isis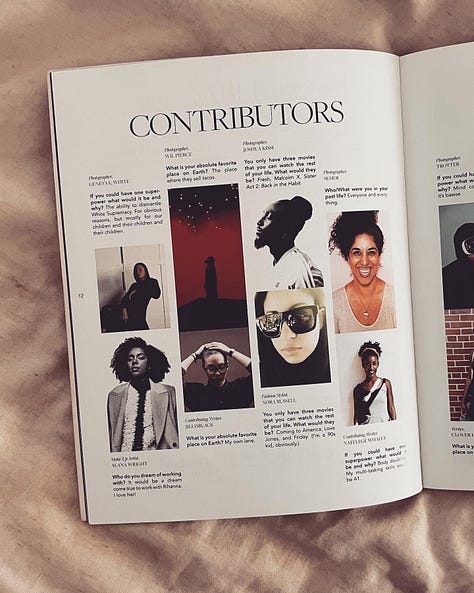 Thank you for reading words, as fruit. Subscribe for free to receive new posts and support my work.